Nylon Insert lock Nut
Nylon insert lock nuts (also known as a Nylock nut) are known for their internal thread coated with nylon. Within the metric system, our nylon insert lock nuts reach a grade of 8 to 10, and we also offer a variety of nonferrous metal materials for manufacturing nuts, including stainless steel and carbon steel.
Nylock nuts require special spanners for fasteners, and are used to connect screw rods. The nylon insert lock nut with a metal washer is tighter than a hex nut, and they are used for sealing and avoiding leaks in oil, water, gasoline, paraffin and other fluids. The nylock nut can also be used in environments where the temperature reaches 120℃.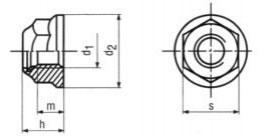 TECHNICAL INFORMATION
D1
D2 Max
H Max
M
S Max
M4
-
5.5
-
7.0
M5
11.8
7.1
4.7
8.0
M6
14.2
9.1
5.7
10.0
M8
17.9
11.1
7.6
13.0
M10
21.8
13.5
9.6
15.0
M12
26.0
16.1
11.6
18.0
M14
29.9
18.2
13.3
21.0
M16
34.5
20.3
15.3
24.0
M20
42.8
24.8
18.7
30.0
M24
45.0
24.0
-
36.0