Thumb Screw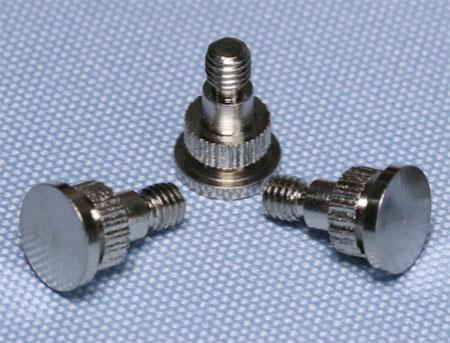 Thumb screws, also known as a knurled thumb screw, have heads that are a knurling trace that are easy to install. The thumb screw is suitable for use where a quick installation and uninstallation is necessary, such as household, military, telecommunications, electronics, commercial and other fields.
Clients can customize the thumb screw in following aspects:
Material
Size
Cross holes
Bores (Plain or Tapped)
Keyways
Studs (Threaded or Plain)
Configuration of the Stud
The thumb screw is usually made of the following material:
Brass, stainless steel, carbon steel, alloy steel, aluminum, aircraft, aluminum, etc.

Metric Coarse Knurled Round Head Thumb Screw
| | | |
| --- | --- | --- |
| d | dk | k |
| M1 | 5.5000 | 1.5000 |
| M1.2 | 6.0000 | 1.5000 |
| M1.4 | 7.0000 | 2.0000 |
| M1.6 | 7.5000 | 2.0000 |
| M2 | 9.0000 | 2.0000 |
| M2.5 | 11.0000 | 2.5000 |
| M3 | 12.0000 | 2.5000 |
| M4 | 16.0000 | 3.5000 |
| M5 | 20.0000 | 4.0000 |
| M6 | 24.0000 | 5.0000 |
| M8 | 30.0000 | 6.0000 |
| M10 | 36.0000 | 8.0000 |