Thread Cutting Screw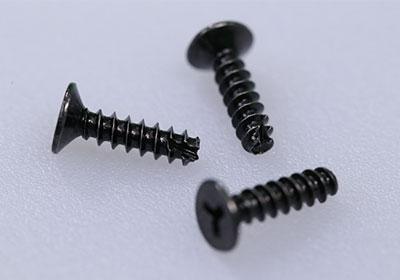 Our thread cutting screw requires no additional auxiliary processing, and can drill, tap and fasten on the fundamental material. The advantage of the thread cutting screw is that it can remove chips when tapping wooden material and plastic and is difficult to remove without proper tools. Compared with the normal screw, the thread screw has higher toughness and requires little maintenance. The screw will last a long time once combined. The thread cutting screw can be used safely and easily to drill and tap at the same time.
Function
The thread cutting screw is used to fasten wooden material and plastic, which also can be used to fasten simple building plates. But the thread cutting screw should not be used to fasten two metal objects.
Material
Steel / Zinc
Steel / Black Oxide
Steel / Black Zinc
Steel / Black Phos
Steel / Corrosion-Resistant Silver Ruspert
410 Stainless Steel
18-8 Stainless Steel
316 Stainless Steel
We can provide all kinds of customizing service of thread cutting screw, including but not limited to:
Unslotted Indented hex washer head self-drilling screws
Pan head self-drilling screws
Flat head self-drilling screws
Flat head with reamer self-drilling screws
Modified Truss self-drilling screws
Square trim head self-drilling screws
Oval head self-drilling screws
bugle head self-drilling screws
Wafer Head self-drilling screws
Parameter

Basic Screw Diameter
Threads Per Inch
T
t
P
Major Diameter
Minor Diameter
Protrusion Allowance
Max.
Min.
Max.
Min.
#2 Pt.
#3 Pt
6mm
0.1380Inch
20
0.139
0.135
0.104
0.099
0.19
-
8mm
0.1640Inch
18
0.166
0.161
0.122
0.116
0.211
-
10mm
0.1900Inch
16
0.189
0.183
0.141
0.135
0.235
0.3
12mm
0.2160Inch
14
0.215
0.209
0.164
0.157
-
0.353
14mm
0.2500Inch
14
0.246
0.24
0.192
0.185
-
0.393