Captive Panel Screw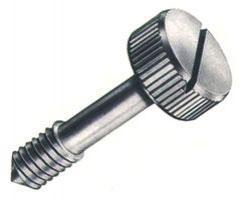 Captive panel screws are also called toe stop screws, and feature a head that is a round knurling trace, which allows for easier installation. A captive panel screw is commonly used in PC boards and equipment panel assemblies, because they feature no heat conduction, vibrating, striking, or thermal expansion.
The information of customizing
Materials:brass,stainless steel , carbon steel, and much more
Standards: ASTM,ANSI,AISI, IFI, DIN,ISO, JIS, GB
The type of head: flat head, pan head, cap head, cheese, button
Head diameters: 5/16″ to 3/4."
Lengths ranging: 21/32″ to 2″ and with threads from 2/56 to 3/8-1
Finishing: galvanizing、chroming、black oxide finishing、heat treatment
Adding washer head is available.